I normally wait until the December solstice to issue my annual Big Six predictions.  I do this because December 21, or thereabouts, is the shortest day of the year.  Every day afterwards is longer, and thus more hopeful, which is the state of mind you want to be in when you are making important decisions.
We are getting an early start this year.  You are, or course, welcomed to archive this article until your heliocentric state of mind improves.
Significant research has gone into this year's crystal ball and I fully expect to eclipse last year's 76% accuracy rate.
All good economic or political predictions, as I tell my students, are based upon The Big Thing that must happen.  The key is not to predict The Big Thing (which anyone can do), but to nailthe secondary things that follow from The Big Thing.
Some of the items below are merely Big Things that will create opportunity for the prescient, pecunious and prompt (my 3P's of successful entrepreneurship).  So please don't make your stock picks based upon what you read here.  Winning that game, as you should know, is more about the timing of your moves than whether you have aimed in the right direction.
If it seems that much of what you read below is about overseas events and an increasingly crowded planet, please forgive me.  "When in doubt, refer to iambic pentameter and the rise of the middle class," intoned my state school English professor in another century.  So forget the Arab Spring.  Rapidly rising middle classes in the world's two most populous countries are the Big Thing of our time.
Some clear-headed people are making a lot of money from it.
A Rising Tide Lifts All Engineers: Ocean Levels and Infrastructure Investment
While politicians, of all people, continue to offer their useless opinions about whether the planet is warming (it is) and why ocean levels appear to be rising (because of you and me, Sistah), the debate is over in three better informed and more relevant communities: the scientific, engineering and investment communities.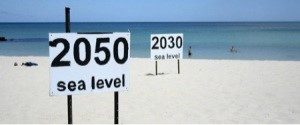 As the oceans rise big things will happen—gradually.  Since more than half the world's population lives within 50 miles of the ocean, substantial shoreline alteration and population dislocation will occur.  There will be more coastal flooding during what will be–due to global warming–more frequent and/or more violent storms, such as the one that recently struck the Philippines.  And as we learned during Super-storm Sandy, big property values, commercial infrastructure and insurance risk are all disproportionately crowded into the coastal zones of developed countries.
The American Society of Civil Engineers is already publishing books and pamphlets on sea level rise and its effect on coastal infrastructure.  The shares of several large civil engineering groups, such as Fluor Corp. (NYSE: FLR.N) and URS Corp. (NYSE: URS.N) have been strong and should continue that way into 2014.
Insurers with large books of business in high-density, high-value coastal markets are doing some deep thinking right now.  Coastal property owners will find it increasingly difficult to obtain affordable insurance.  Look for more U.S. insurers to investigate what might have previously been considered overly risky foreign markets.
So, if you can put your climate politics aside, watch how rising sea levels are making money for some people, while causing big headaches for property/casualty insurers, developers, and state, local and national governments all around the world.
Notes:
North Carolina lawmakers reject sea level rise predictions http://www.reuters.com/article/2012/07/03/us-usa-northcarolina-idUSBRE86217I20120703
Market Reforms in China
The Chinese leadership is about to make a crucial pivot to improve the country's slowing economy and rapidly deteriorating environment.  Dangerous air pollution in many Chinese cities has prompted a public outcry and forced the leadership to undertake two key reforms.
First, the Chinese government will move gradually to reduce China's dependence upon manufacturing and exports for growth.  As the Chinese have learned (along with every developed industrial economy since the invention of the steam engine) industrialization creates prosperity–and lots of pollution.  The Chinese government has realized that rising prosperity (which is the government's sole claim to popular legitimacy, and not a hollow one when you consider how many millions of Chinese have been pulled up out of poverty by the economic reforms of the last 30 years) no longer trumps an unhealthy environment.
To do this, however, China's leaders will have to rein in the juggernaut of state owned enterprises (or SOE's).  The SOE's are disproportionately responsible for the pollution that wracks China's air, water—even soil.  But these oligarchic behemoths have become a law unto themselves.  Owned and managed by the ruling families of China, they will be a tough political nut to crack for China's new leader, Xi Jinping.
Infrastructure Improvement and Frontier Sensibility in India
One constantly hears of India's breathtaking economic rise.  Yet this is a country so profoundly mismanaged that theft of electrical power consumes over 20% of its generating capacity.  This, together with India's failure to build more power plants, optimize distribution and manage its abundant coal reserves leads to regular, crippling electrical power failures impacting tens of millions of people.  Yes. Now. In the 21st century.
Meanwhile, the government's failure to invest in road and rail transportation makes Indian cities gridlocked warrens of logistical frustration and profound inefficiency.
India will make massive investments in electrical power, road and rail transportation infrastructure in 2014 and beyond—or stagnate economically.  Much of the money will, of course, disappear into the customary ether of corruption and inefficiency.
And while we are on the subject of India, I predict that the Indian government will recognize that its real geopolitical rival is now China.  India will see that fighting over some glacier in the Himalayas just isn't yielding a good ROI and will come to terms—of some sort—with its neighbor and official Sick Man of Asia, Pakistan.
Rapprochement with India won't please the real power in Pakistan–the ISI, or Inter-Services Intelligence agency—which needs an existential threat from India to build its power and nurture militants in the drone-ravaged "tribal areas" that it continues to claim, despite all reality, as sovereign territory.  But I digress somewhat indulgently about a profoundly troubled part of the world from which the U.S. would be best removed.
But Wait! Just a Quick Word About Afghanistan's Eye-Popping Mineral Wealth
Did you know that one of the few positive outcomes of the U.S.'s interminable involvement in Afghanistan was the first comprehensive study of Afghanistan's non-fuel geological resources by the U.S. Geological Survey?  The results will astound you.
It showed, for example, that Afghanistan's Balkhab District was home to the world's largest deposits of copper.  Not Arizona, not Utah, not Chile.  Afghanistan.  Two new large copper deposits in Logar Province and Herat Province provinces have subsequently been discovered, one of which is estimated to be worth $43 billion. Copper and gold mines worth of $30 billion were also discovered in the Zarkasho area of Ghazni, and lithium deposits (used for batteries) valued at $20 billion were discovered in Farah and Nimroz provinces.  A deposit of beryllium which, lighter than aluminum and stronger than steel, is used in airplanes, helicopters, ships, missiles, and space craft, has been found in the Khanashin district of southern Helmand Province.  The reserves are estimated at $88 billion.
And we are not just talking about metals.  There are enormous deposits of highly strategic minerals, such as the rare earths used for semiconductor and other computer applications.
Yes, Maynard, that poor, war-torn, corruption-wracked country that supplies the world with opium is literally a gold mine.  Did you also know that resource-hungry China shares a short, but very important border with Afghanistan?  And, finally, did you know that the ever acquisitive Chinese are alleged to have bribed Afghanistan's Minister of Mines to obtain the rights to exploit that poor, war-torn, corruption-wracked country's mineral resources?  And the beat goes on.
Sources: http://pubs.usgs.gov/fs/2007/3063/
http://www.nytimes.com/2010/06/14/world/asia/14minerals.html?pagewanted=all&_r=0
http://articles.washingtonpost.com/2009-11-18/world/36875491_1_aynak-afghan-minister-metallurgical-group-corp
Water, Water, Water
Clean, consumable water will soon be the world's most sought-after commodity.  China has the dual curse of naturally scarce water resources and dreadful environmental enforcement.  Shanghai, one of the world's largest cities, also has one of the world's most contaminated supplies of municipal water.
If you are American, you are forgiven for feeling a bit smug.  The U.S.—with the key exception of the Southwest and parts of California–has plenty of relatively clean, relatively affordable water for human consumption, industry and agriculture.
Water for human consumption comes from two places: either pumped out of aquifers in the ground, or from surface sources, like rivers.  The vast Ogallala aquifer that lies beneath much of the U.S. middle states was already under intense agricultural pressure before the water-hungry practice of oil and gas fracking came to Kansas, Oklahoma, Nebraska and North Dakota.
Large rivers, like the Mississippi (which supplies both drinking water and a destination for treated sewage for millions of Americans), are increasingly becoming contaminated with persistent pharmaceutical and agricultural agents.
Out of this seeming gloom comes a Big Thing.  If you haven't heard of it yet, you will soon.  It is a material called Graphene.  This material will have many world-changing applications, but the one you want to watch is water filtration.
Have a look and start investing–wisely.
http://www.extremetech.com/extreme/115909-graphene-the-perfect-water-filter
How North Dakota is Changing the World
So fracking is a Big Thing, producing an American energy revolution that will have impacts across the U.S. economy.  But have you considered how it will change the global geopolitics of oil?
Have you noticed how recently the Saudis have been very publicly unhappy with the U.S.?  On the surface the snit is about two things: the continued failure of the U.S. to find a solution to the Israel/Palestinian issue (it's our problem to solve, right?) and the recent discussions with the Saudi's religious arch-enemy, Shiite Iran, over a proposal to lift crippling sanctions in return for abandoning their nuclear weapons program.
But that's not the issue, really.  What's happening is that we are getting over the Saudis—finally.  For a lifetime–in my case–we have lived through and assumed without question (despite all of our brave words about universal human rights, democracy, etc.) an alliance with one of the most repressive, retrograde, unelected, fundamentalist Islamic monarchies in the world.  And it has always been about one thing: the Saudis have oil—lots of it.  And, Lordy, how we love our oil.
The shale deposits of North Dakota and the fracking technologies developed by U.S. oil exploration and development companies have given us back our energy mojo.  More importantly to the American soul, soon we won't need to dance to the tunes of the repressive, kleptocratic governments that often form over large deposits of oil: Iraq, Libya, Russia, Venezuela and Nigeria all come immediately to mind.
North Dakota–settled by sober, hard-working Norwegians and Germans, is just as gob-smacked as the rest of us about its new-found wealth and global impact.  I am sure they will manage it wisely.  The oil, which until recently was locked in the shale deposits under 39thstate, is changing the world–for the better.
DM